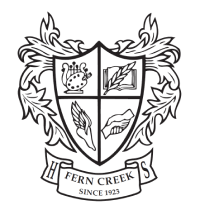 A tradition unlike any other school in Louisville.
Keep in touch and help us celebrate Fern Creek as a community meeting place, a hub of learning and a touchstone for generations of Louisville residents.
Baseball Scoreboard Dedication
You are invited, along with former members of the '65 State Runner-up team, to attend a short dedication ceremony of the new baseball scoreboard at 5PM on May 9, 2022 prior to the game.
This scoreboard was funded with assistance from the Alumni Association and in the memory of the 1965 State Runner-up team. A plaque with this recognition will be mounted in the home team dugout.
Ivy Plus Academy
Fern Creek High School Ivy Plus Academy The lvy Plus Academy's purpose is to ensure students' acceptance into the nation's most selective colleges and universities. lvy Plus Academy students will travel as a cohort in ...
Read More
Check out our gallery here